SMSC/British Values/Recognising Extremism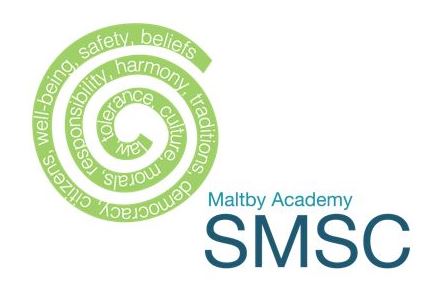 Spiritual, Moral, Social and Cultural (SMSC) learning is embedded throughout the fabric of the Academy. Through our pastoral system, activities in lessons and extra-curricular opportunities, our young people are immersed in developing the principles that underpin SMSC.
Our young people develop a deep knowledge of the world around them, the different beliefs, faiths and cultures that exist within that world and the role these play within the local, national and global community the Academy inhabits. It is demonstrated through our pastoral system, Life Skills lessons, Character Education sessions, Votes for Schools activities and as well through subject specific curriculum intents and the extra-curricular offer. Our young people commit to dedication, reflection and responsible behaviour in and out of the classroom. We are therefore, an Academy community in which respect, consideration, appreciation and positivity are at the heart of what we do in our happy and confident Academy.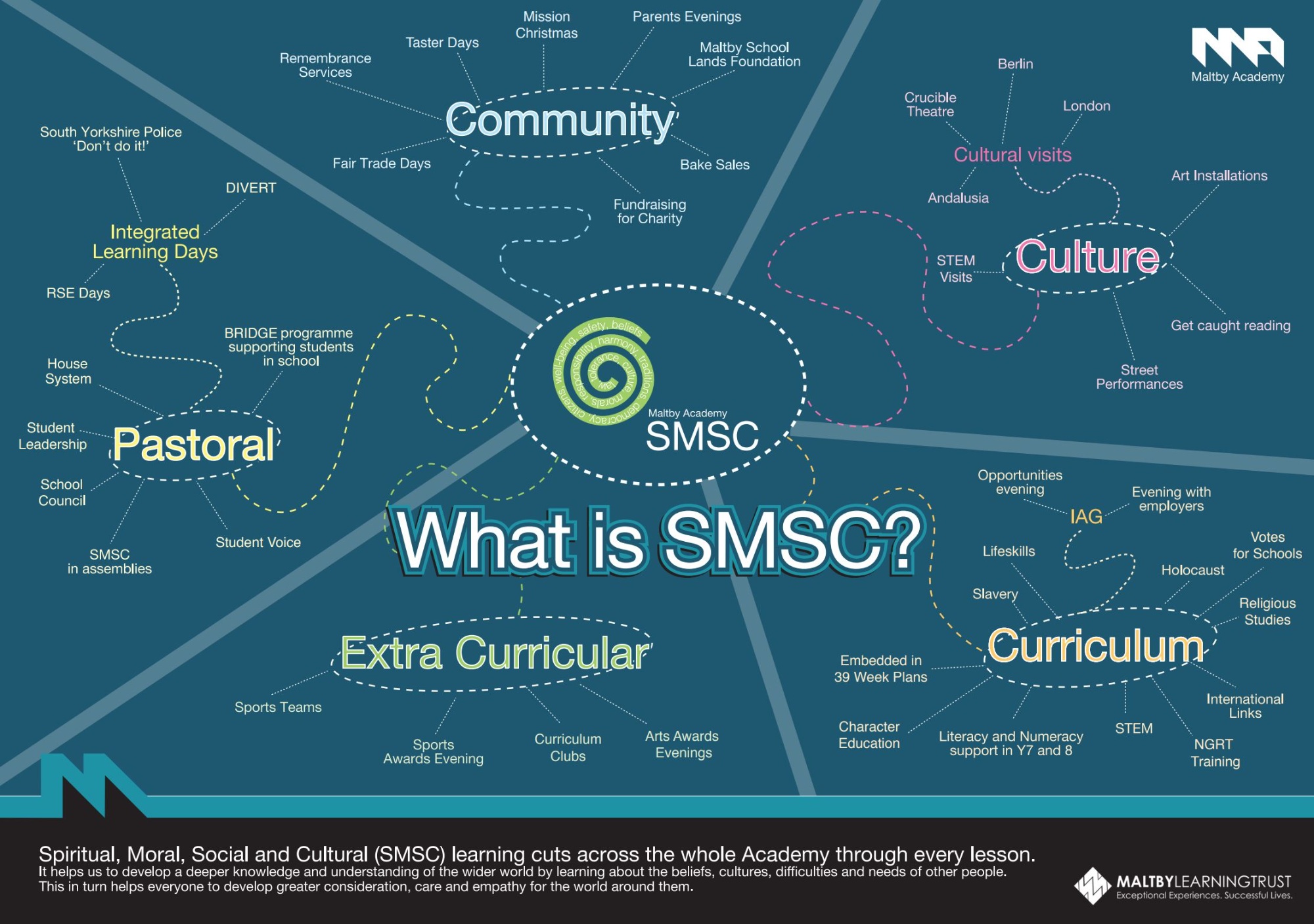 British Values
Her Majesty's Government's 2011 Prevent Strategy set out the definition of British values and the Department of Education has reinforced these in recent years. Schools across the nation are now expected to focus on the tenets that underpin British values, and demonstrate how the activities we undertake with young people encourages them to respect these fundamental British values. At Maltby Academy, we fully subscribe to the Department of Education's definition of British values as:
Democracy
The Rule of Law
Individual Liberty and Mutual Respect
Tolerance of those with different faiths and beliefs
We ensure that our young people encounter these British values everyday within the Academy through activities in and out of the classroom as part of the wider SMSC provision. Examples of how we promote British values can be found below:
Democracy
Student voice is a valued and important component of the work we do in the Academy. Student opinions and desires have been taken into account when designing the student planner, creating a method for written assessment and feedback and enriching the climate for learning strategy with student pledges. The democratic process plays an important role in the Academy.
House Captains are elected by their peers each year and go on to represent their houses in weekly meetings with key staff, forming committees that focus on various experiences and contexts within the Academy.
In 2015, we instituted a Year 7 Council to represent the student voice for their key stage. This body was elected in a week long process that included learning on the British democratic system, hustings and a secret ballot.
We are confident that through these activities our young people develop a knowledge and appreciation of the democratic process and the influence being an active citizen can have.
The Rule of Law
Our robust climate for learning ensures that young people encounter rules and laws which govern their class, school and community every day.
Our high expectations are reinforced daily in lessons, tutorial and through assemblies which celebrate success in achieving key milestones associated with attendance and engagement in learning. The rule of law is mapped across the curriculum and visited in lessons ranging from History and Humanities to Science and ICT.
At key points in the year, outside speakers including those representing the police and prison service come into the Academy to discuss the rule of law and the consequences with our young people. This 'real-life' experience deepens our students' understanding of the law.
Individual Liberty and Mutual Respect
Preparing young people for the responsible choices they will have to make in the future is an integral part of the Academy ethos. AIG and options evening's facilitate student choice from a position of appreciation and knowledge.
Differentiation and pedagogical practice in lessons allow students to take charge of their own learning and the language of choice in our climate for learning strategy encourages students to make the correct decisions and understand the difference between right and wrong. Embedded PLTS foster mutual respect through effective team working, self-reflection and effective participation. The Academy's focus on the relationships between staff and students ensure that a climate of mutual respect is found in all aspects of the Academy community.
Tolerance of those with different Faiths and Beliefs
All stakeholders in the Academy recognise the importance of tolerance of different faiths and beliefs in the modern world. Therefore, we offer a culturally rich and diverse curriculum in which all major religions are studied and examples of intolerance are confronted and respect for diversity is nurtured.
Anti-radicalisation and Challenging Extremism
The Maltby Learning Trust (MLT) 'Anti-Radicalisation Policy' is available on the MLT website. Click here to view the policy.
The MLT policy defines:
Radicalisation as the act or process of making a person more radical or favouring of extreme or fundamental changes in political, economic or social conditions, institutions or habits of the mind.
Extremism as in the 2011 Prevent strategy, as vocal or active opposition to fundamental British values, including democracy, the rule of law, individual liberty and mutual respect and tolerance of different faiths and beliefs. We also include in our definition of extremism calls for the death of members of our armed forces, whether in this country or overseas.
Maltby Academy has a zero tolerance approach to extremist behaviour for all community members. The Academy relies on its strong values to steer its work and ensure the pastoral care of students and protect them from exposure to negative influences. Furthermore, our promotion of high expectations and positive behaviour policy equips students with the skills to reject violence in all its forms.