Wear Something Christmassy this Friday 18th December 2015.
The Student Council have requested we hold a 'Wear Something Christmassy' day to raise money for the Text Santa Appeal. Text Santa is a national fundraising event which supports the work of Macmillan Cancer Support, Make-A-Wish UK and Save the Children.
On Friday 18th December 2015, we are inviting students to join in the Christmas spirit by wearing any of the following:
Christmas jumper
Christmas tie
Christmas socks
Christmas hat
Students should still be wearing Academy uniform. This is not a non-uniform day. If students wish to participate, they should hand a £1 donation to their tutor on Friday during tutor time. Download the letter below.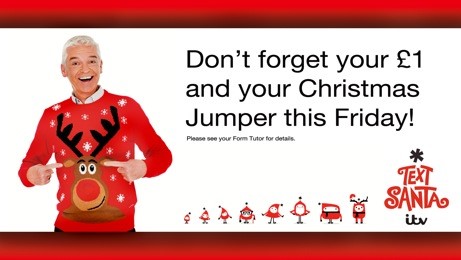 ​