The Pupil Premium Grant was introduced by the Government in April 2011 to provide additional support for looked after children, children of the armed forces and those from low income families. The extra funding has been made available to schools and academies to help them eliminate the gap in performance (attainment and progress) and in securing positive progression routes after 16/18 years old.
The Government has asked Ofsted to investigate how effectively schools were using the additional funding during their visits to schools and academies. Further details about the Pupil Premium Grant can be found on the Department for Education website.
The Pupil Premium strategy at Maltby Academy has been shaped with the aim to improve student progress and to 'close the gap' between the progress that disadvantaged students make in school compared with their non-disadvantaged peers nationally. Within this document you will find a summary of the actions taken to address the barriers to learning that our most disadvantaged students face. This strategy has been shaped in line with advice taken from Sir John Dunford (Government's National Pupil Premium Champion). The date of the next Pupil Premium strategy review is January 2018.

The Pupil Premium in the financial period 2016-17, per eligible student is as follows:
Students in Years 7 to 11 is £935 per student;
Looked After Children is £1,900 per student;
Service Children is £300 per student;
The Academy receives no additional support for students in Years 12 and 13.
Maltby Academy Grant Allocations
The amount of Pupil Premium allocated by the Department for Education to the Academy is as follows:
In the financial year 2014 to 2015, the Academy received £309,485;
In the financial year 2015 to 2016, the Academy received £316,030;
The allocation in the current financial year 2016 to 2017 is £308,550;
Barriers to Learning:
The Academy's philosophy is that Maltby's young people are as 'good as, if not better than anyone anywhere'. Staff have high expectations of all students and first wave teaching is focused on eliminating gaps between disadvantaged and non-disadvantaged students both in school and nationally. However, the Academy is aware of the barriers to learning of disadvantaged students (and parents/carers) which can inhibit aspiration, motivation and skills to improve progress. These can include, but are not limited to – low levels of parental support and engagement in school, underdeveloped literacy and numeracy skills, low attendance, poor social, emotional and mental health, and being more likely to disengage with school.
Desired Outcome 2016-2017
To ensure the Academy closes the attainment and progress gap between disadvantaged and non-disadvantaged students both in school and nationally. The funding has been allocated accordingly:
Quality of Teaching and Learning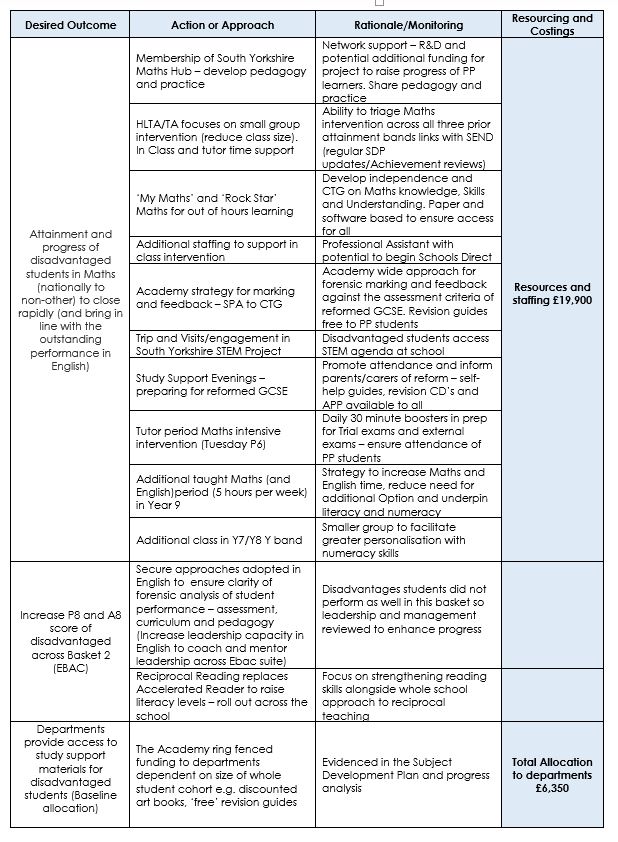 Improve Levels of Engagement to maximise progress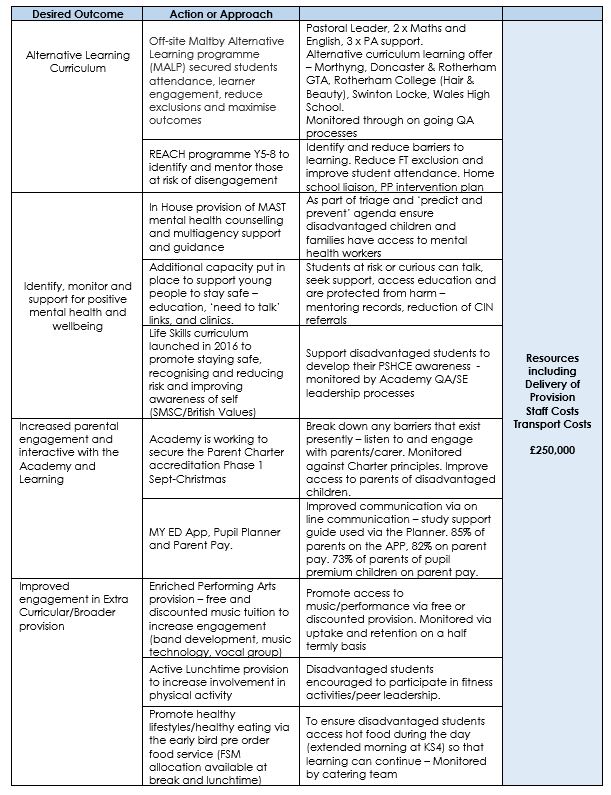 Raising Aspiration and Participation