The DfE has made additional funds available for improving the attainment of our disadvantaged pupils. This grant is known as the Year 7 Catch-Up Premium. The funds are primarily aimed at improving Maths and English levels at key stage 2 (KS2). An allocation is made for every pupil who has not achieved the 'expected standard' in reading or maths during the SATS assessments at the end of Y6 and on census with the secondary school the following October. Previously this was awarded for any students who had not achieved a National Curriculum Level 4 (NC L4).
Due to the reform agenda, nationally, we have seen changes to the curriculum and assessment. Previously, students achieved typically between NC L2-6 and are now assessed on new more challenging criteria on a scaled score from 80-120. A score of 100 is the new 'expected standard' and presents a greater level of challenge than the previous NC L4. In the summer of 2016, many primary schools were still getting used to the new curriculum and the number of pupils not meeting this new 'expected standard' had risen from the previous year.
The DfE have not made it clear how their funding will be precisely allocated. Instead they agreed to match the previous year's funding for each school. So for 2016-17, at Maltby Academy we received a similar allocation as in 2015-16.
This short report summarises how the previous year's funding was spent and how we intend to spend this year's funding. Most importantly, it provides information on the outcomes of the spending and the improvements made amongst our pupils.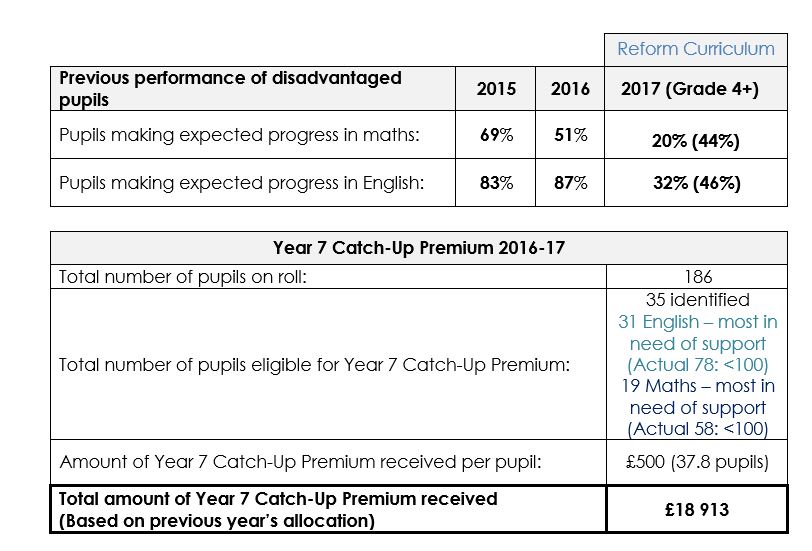 Spending the Year 7 Catch Up Premium 2016 - 17
Objectives: To support the attainment of pupils who did not achieve the expected standard in English or Maths at the end of KS2 (100+) and aid their progression through the secondary curriculum.

Summary of spending:
Securing Literacy: We have bespoke provision in place through the Step Up programme which caters for students who enter Year 7 below National Expectation in English (reading, grammar and writing). In addition, many of the students in the cohort have broader needs in terms of SEND and are often more vulnerable than their peers. The programme forms one of four bespoke strands and offers in both Year 7 and Year 8. In Key Stage 4, the programme evolves into a bespoke study support option that runs alongside the Level 2 options process. The Step Up programme – now in its sixth year – is designed to support students in rapidly 'closing the gap' on issues related to their literacy skills. As part of the curriculum offer, students follow – for 50% of their timetable – an integrated, thematic curriculum (different to that of their peers). To further the accelerated progress of this cohort and ensure high standards of academic rigour, the bespoke Step Up curriculum is currently being enhanced by building the development of literacy skills - as well as content relating to geography, history and the arts - around a text-based curriculum relevant to provision across the Maltby Learning Trust. In addition, students who access the Step Up programme still receive specialist provision from Mathematics, Science, ICT and PE.
For those students who were fragile band 2 readers (reformed KS3 assessment measure equivalent to being secondary ready), students benefitted from a smaller class size in 7y3 and progress was monitored by the English team.
Securing Numeracy: Building on the success of the network approach between Maltby Academy leaders in Maths and teachers within each of the MLT primaries, in 2016-17, primary staff were confident to lead their own programme of booster sessions to prepare their pupils to become secondary ready. In the previous year this was led by MA staff with the aim to reduce the requirement for additional catch-up support in Y7. As such, 39% fewer students needed such significant support in numeracy than in literacy. Through the personalised and comprehensive transfer of information process established through transition, students who required significant numeracy support were identified and placed into a group of just 19 where they received greater HTLA supervision to further provide personalised support. The KS3 Maths curriculum was reformed in 2016-17 to secure the breadth and depth of learning of students in preparation for the increased level challenge seen in the reformed curriculum in KS4, along with how achievement and progress was judged and reported. As such, in Maths it was a priority for those students significantly below the expected standard to spend time applying learning in a range of new and unfamiliar contexts rather than advancing to the next assessment level without the secure foundation. This methodology was developed by the subject leader for Maths at MA who represented the South Yorkshire Maths Hub at the 'secondary mathematics teaching for mastery specialist programme' (national conference). She disseminated her findings across the authority and provision relating to teaching, learning and assessment was enhanced to support and build stronger foundations in learning of Maths particularly for those not yet at the 'expected standard'. In addition to the above, a parent engagement evening was put in place in the first half-term to show parents of Y7 how they could support their child with Maths at home and MyMaths homework was personalised throughout the year to secure student understanding.

How will we improve the attainment of those remaining below the expected standard?
Those who have not yet achieved the expected standard in English will be provided with extra support to ensure that they close the gap on their peers. From September 2017, 20/31 students continue to access the highly effective Step Up provision, inclusive of 2 students who remained below the expected standard, to further secure their progress in line with their peers. The programme includes: 2 hours of integrated, thematic based curriculum, 3 hours of English and 1 hour of reciprocal reading. All classes are taught by a specialist teacher and supported by a professional assistant. 3/5 students who had not met the national standard are now receiving specialist support through the REACH programme, which aims to develop student self-esteem and resilience as well as secure progress across the curriculum taught within a class of 7 to provide intense and personalised support to better meet their needs.

How will we improve the attainment of those remaining below the expected standard?
NB. Although the figure above indicates that none of the students were judged as being secondary ready at the end of Year 7, it is important to recognise that in the second year of reform in Year 7, our assessment methodology has been updated in September to realign the benchmark for the 'expected standard' from a secondary perspective. This had been set at a level too high for 2016-17. The progress score relative to their year group does however show the significant impact of the funding on their provision.
Using the recalibrated assessment methodology, those who have not yet achieved the 'expected standard' will be provided with extra support to ensure that they close the gap on their peers through second wave intervention related to department improvement planning. Students will be assessed regularly using new assessment papers devised by the department and information will be shared centrally to be tracked and monitored by the AVP, Director and subject specialist for Maths Y7-8. Following Learning Cycle achievement analysis, student progress will be reviewed by senior leaders and provision will be secured.
Use of the Year 7 Catch Up Premium 2017 - 2018

Planned Use of the Year 7 Catch Up Premium 2017 - 2018
For those students assessed as being significantly below the 'expected standard' in literacy we will continue to provide highly effective teaching through the Step-Up programme. Within Maths the AVP and new Director for Maths will work closely with the Subject Specialist to ensure that provision is well targeted and as effective as it can be to allow more students to close the gap on their peers more rapidly.