The scholars win the Rotherham Schools Cup for the fifth consecutive year.
It was a successful afternoon for our Sheffield FC Scholars who defeated Wath Academy in the U18 Rotherham Cup Final.
This is a fifth consecutive year that our scholars have retained the Rotherham Cup 1st XI trophy.
It was a highly competitive and hard fought game which was incredibly close throughout. The game finished 1-1 after 90 minutes which ultimately led to a penalty shootout. Our Scholars held their nerve under huge pressure from the 12 yards spot and eventually won the shootout 4-3 to retain the Cup.
There was a high level of football on show with some excellent individual displays from both teams, but most importantly the game was played in the correct spirit. The game offered lots of excitement and Mr Higgins, the Scholarship Head Coach was keen to express his delight in his team's performance and attitude in the final.
"First of all I think it's a fantastic achievement for our scholars to retain the trophy for a fifth consecutive year and that is credit to all involved. In terms of the final, what a fantastic advert for under 18 football. It was a very competitive game played between two excellent teams who tried to play the game the right way. The quality on show was evident to see, but most importantly, the game was played in the right spirit with a lot of respect shown from the coaching staff and players from both teams. Seeing our scholars perform like they did can only bode well for the future of Sheffield FC."
Mr M Higgins
Head of Sheffield FC Scholarship Programme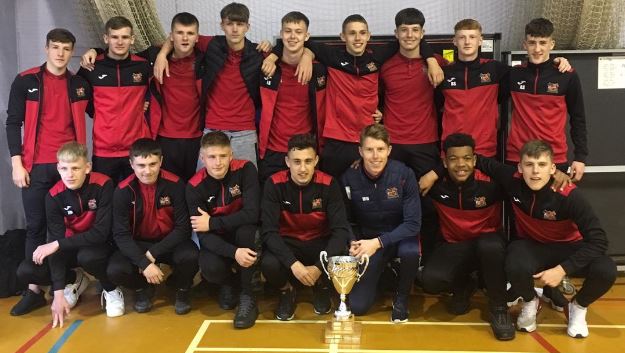 A fantastic achievement to win this cup competition for a fifth consecutive year, and one that shows the
quality of our Scholarship Programme.