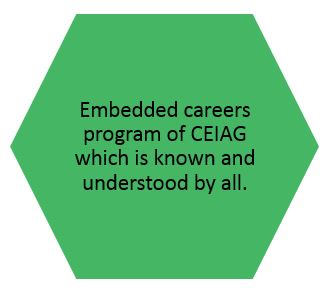 •Year 7 - 13 CEIAG framework and 2016-17 curriculum delivery.

•Launch U-Explore START online careers platform: HT1 Self Awareness; HT3 Job Roles; HT5 Career Routes.

•Bespoke CEAIG sessions/assemblies/drop down experiences: Year 11 Progression Post 16; House assemblies START: Self Awareness; Year 10 and Year 9 Progression Post 16.

•Parental Engagement and Information events.

•EiL 19th October: Sixth Form Workshops: University of Sheffield STEM careers; University of Sheffield UCAS; Sheffield Hallam University (SHU) Student Finance; CEIAG: U-Explore; Student Wellbeing; Edge Hill University.

•Year 11 Options Evening: 8th November: Edge Hill University, Sheffield Hallam University (SHU) and University of Sheffield; CEIAG U-Explore.

•Year 11 L3 Taster sessions: 14th - 18th November and 24th - 28th January 2017.

•Sixth Form Parents Evening: 23rd November: SHU & Uni of Sheff; CEIAG RCo U-Explore; Unifrog.

•Marketing and information on MA website and social media.